The vast majority of hateful social media posts directed towards the home nations teams in the World Cup 2022 remain online, an analysis by Cardiff University's HateLab has found.
The study of 847,370 posts on Twitter, Reddit and 4Chan identified around 200 classed as homophobic or racist.
The report authors said that while the amount of hate was low in comparison to previous research on the men's game published in the book The Science of Hate, social media abuse and inaction from platforms in removing content remained a concern.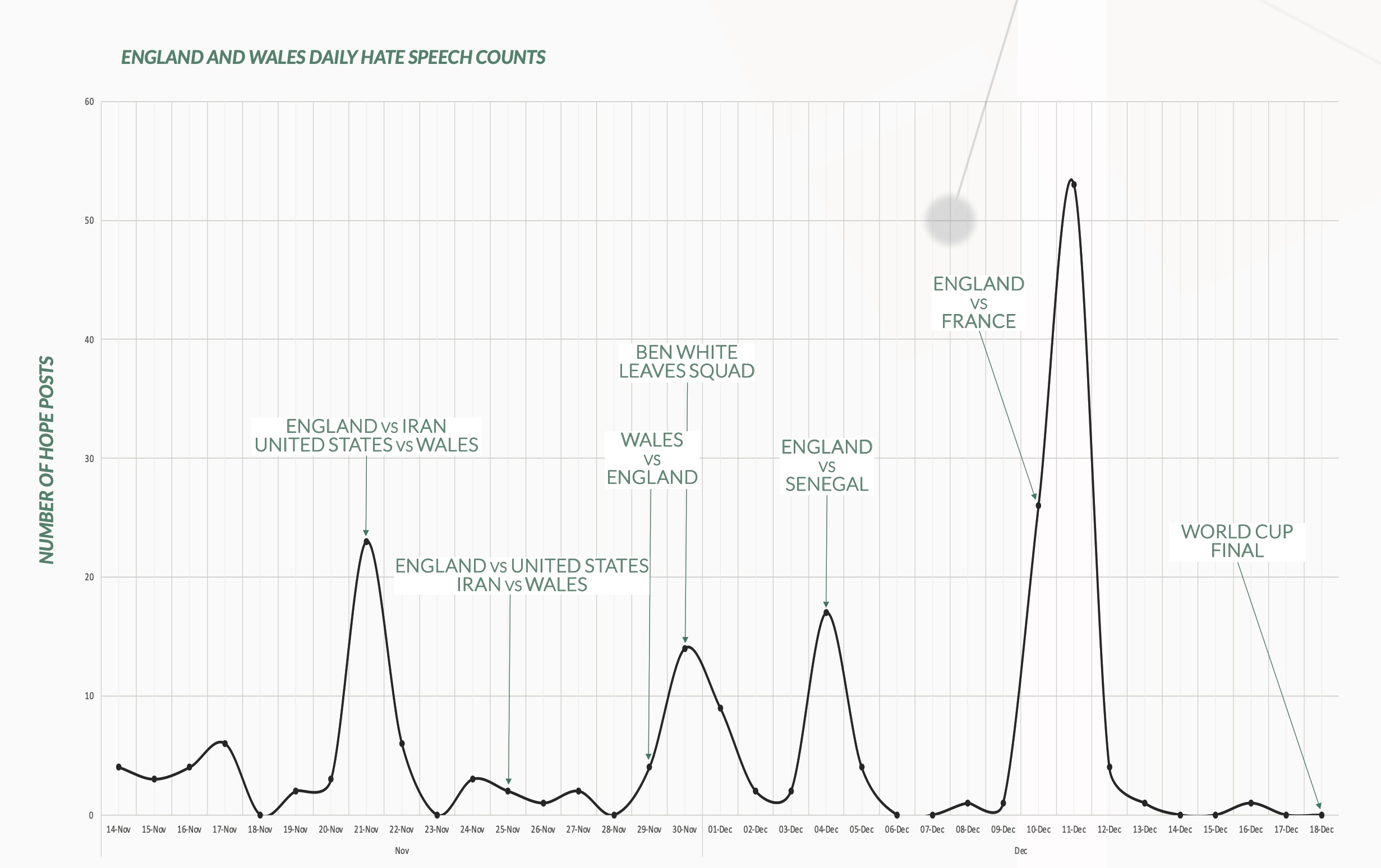 69 per cent of the England team and 26 per cent of the Wales team were sent hate speech on social media during the tournament. Taking the knee, which both England and Wales teams promoted as a sign of solidarity in the fight against discrimination, triggered the posting of racist hate speech. But predominantly, narratives were homophobic in nature, clustering around press coverage of anti-LGBTQ+ laws in Qatar and the banning of the 'OneLove' armband.
England Captain, Harry Kane received the majority of homophobic posts. It is likely Kane was most targeted due to his missed penalty and his prominent role as skipper. The data also suggest some fans felt Kane's focus on the OneLove armband ban early in the tournament detracted from the football.
Kane does not identify as gay or bisexual, indicating the use of homophobic language against him was not targeted at his identify, but was instead being used to generally insult him. While some players may not be severely impacted by the posting of homophobic language, its casual use creates a hostile environment for LGBTQ+ people online that can induce anxiety and fear in some fans.
The players who received the most hate speech across the analysis period in the England team were Harry Kane, Ben White, and Mason Mount. Gareth Bale received the most hate in the Wales team. Rashford, Saka and Sterling received racist abuse in the period, but the number of posts was much lower compared to the number of homophobic posts sent.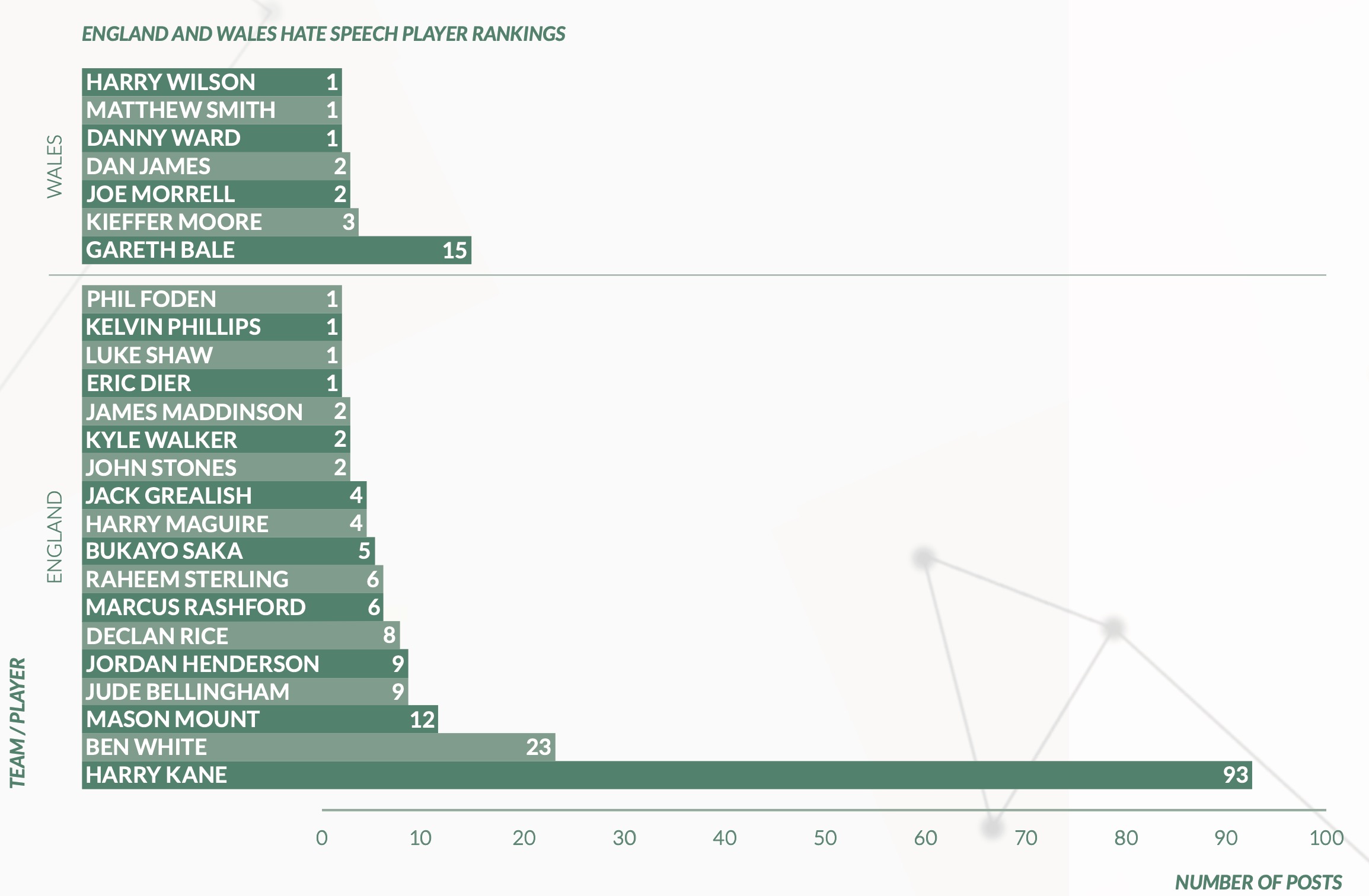 "Most of the hateful posts identified by our AI likely fall into the sub-criminal 'legal but harmful' category of abuse, recently dropped from the Online Safety Bill. While these posts do not reach the criminal threshold of grossly offensive or threatening and likely to stir up hatred, they are nonetheless harmful to the targeted players if seen." said Professor Williams, Director of HateLab.
This project builds on HateLab's monitoring of abuse sent to players in the Euro 2020 and the Women's Euro 2022.
The analysis of the hate speech posts also found:
88 per cent of the hate speech identified was anti-LGB and 11 per cent anti-black
78 per cent of the hateful Twitter posts were sent by users identifying as male and 2 per cent as female (20 per cent were unidentifiable)
20 per cent of hate speech posts originated from Twitter accounts in the United Kingdom and 16 per cent from other countries (64 per cent were undisclosed)
In the United Kingdom, the main hate hotspots were identified as London, Manchester, Milton Keynes, Sheffield, and Cardiff
Among the accounts posting hateful messages, only 5.9 per cent were bots or fake accounts
Online hate speech on Twitter received an average of 0–2 retweets or replies, which implies minimal public engagement
88 per cent of hate posts remain live on social media platforms
"The vast majority of hateful posts that may be considered grossly offensive remain live, suggesting that moderation efforts are not having an impact on removing hate speech and that social media platforms need to take extra measures to protect users from being subject to abusive communications online," said Professor Williams.
"Campaigns such as EE's Hope United, Kick It Out, Show Racism the Red Card, and Rainbow Laces are working to raise awareness and prevention of hate through the footballing calendar – but there is still a long way to go before we see online abuse disappear from platforms.
"Governments and social media companies need to go further, but ultimately, until the majority of users of these platforms become upstanders against hate instead of bystanders, we are unlikely to see the eradication of hateful abuse from our online spaces."
The Science of Hate: How prejudice becomes hate and what we can do to stop it by Matthew Williams is published by Faber & Faber. 
HateLab was established via funding from the Economic and Social Research Council.